It All Started With a Deli: The Attmans of Lombard Street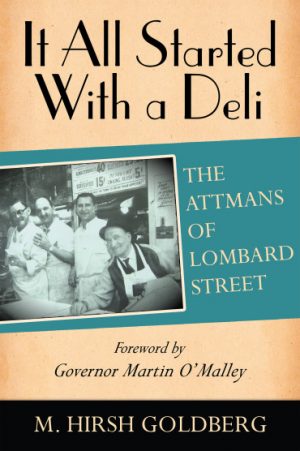 A Remarkable Story of Business and Family Success.
When you're at Oriole Park enjoying a soda with a tray of nachos or hot dogs… or need an apartment and want to choose from 14 apartment complexes with over 3000 units… or seek a nursing facility for a loved one, you will find various Attman companies behind the scenes. And for a deli fix, there is Attman's Delicatessen, a fixture on Lombard Street's Corned Beef Row for nearly
100 years.
It All Started With a Deli tells how 23-year-old Harry Attman, an immigrant, opens a small confectionery/deli in 1915 in Baltimore. With his soon-to-be bride Ida, a fellow immigrant, they work long hours and many years to build what becomes a famed delicatessen with a national reputation.
Over the years, Harry and Ida also raise three sons—Edward, Seymour and Leonard—and inculcate in them the values of hard work, ethical conduct, religious principles, and concern for others.
The result, over four generations, is today an astonishingly close, vibrant family whose members have founded major businesses, while always giving back to the community.
As Governor Martin O'Malley says in his Foreword, "Few families have contributed so much to our City and State… The Attman story is one worth telling and sharing"